Something seems wrong, but I don't know what? (incl. how to clear cache)
Sometimes programs get a hiccup and will not do what you want it to.

We suggest to do these 3 things before you contact us:

1. Try to reload page
Use the circle arrow next to/in browser address window



2. Try to reload page while holding down the 'Shift' button (the one you use to get capital letters)

3.

Delete browser data storage/ Cache. It is slightly different for different browsers. Below follows an explanation on how to do this for each browser:

Internet Explorer, Chrome, Firefox and Safari

Clear Cache in different browsers:
Chrome
Step 1: Click on the Chrome menu icon seated towards the right end, besides the address bar.
Step 2: Navigate to Tools -> Clear browsing data. If you love keyboard shortcuts you can use the Ctrl + Shift + Delete combination and ignore Step 1 and Step 2.
Step 3: A pop up (as shown below) will appear on your screen. Here, you can select, not just cache, but any browsing data that you wish to delete.
Step 4: Since we are concerned with browse cache, tick mark the option reading Empty the cache and uncheck all others. In order to clear cache completely we suggest that you select beginning of time from the drop down. Click on Clear browsing data when done.
Firefox
Safari
Select "Preferences" from the Safari Menu


Select the "Advanced" tab and check the "Show Develop menu in menu bar" box


You will now have a "Develop" menu available. Select "Empty Caches" from the Develop Menu.
IE 9,10,11
Select

Tools (via the Gear Icon) > Safety > Delete browsing history...

.

NOTE:

You can also access this menu by holding

Ctrl + Shift + Delete

.



Make sure to uncheck

Preserve Favorites website data

and check both

Temporary Internet Files

and

Cookies

then click

Delete

.



You will get a confirmation at the bottom of the window once it has successfully cleared your cache and cookies.



Further Troubleshooting
The above procedure for clearing cache and cookies should work for the majority of websites, but certain website and applications require a more thorough procedure. If you are still having issues, try to steps below.
Note:

The F12 developer tools in Internet Explorer 11 do not include a cache menu. This process will only work for IE10 or lower.
Close out of

Internet Options

. Click on

Tools

and select

Developer Tools

.



In the

Developer Tools

window, click on

Cache

and select Clear Browser Cache...



Click

Yes

to confirm the clearing of the browser cache.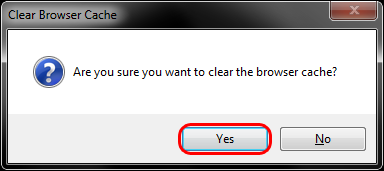 See Also: